ATA-110H1 the sporty 110cc ATV only $649 !! w/Free Shipping!
The ATA-110H1 is much larger than the 110b, and 110F1. It is large enough for a small adult to ride. I generally say its the perfect size for kids 10 and up.
It is still fully automatic and has a 4 stroke engine. It is a very popular ATV due to its deep sounding exhaust and AWESOME body design. It has a very comfortable suspension as well.
ATA-110H1
Engine:
Engine Type: 110CC,Air cooled, 4-stroke, 1-cylinder,automatic
Start Type: Electric start
Transmission: Chain Drive
Max Torque: 6.5N.m/5000-5500r/min
Wheelbase(inch): 32.68
Ignition: CDI
Fuel Capacity(L): 2.5
Chassis:
Front Hand Brake: Drum
Rear Foot Brake: Hydraulic Disc
Tire Front: 16x8-7/19x7-8
Tire Rear: 16x8-7/18x9.5-8
Suspension Front(inch): 14.2
Suspension Rear(inch): 12.6
remote control(Yes/No): Yes
Speed Limiter(Yes/No): Yes
Engine kill switch(Yes/No): Yes
Dimension:
Battery: 12V/4Ah
G.W.(lbs): 286.59
N.ATA-110H1/H4W.(lbs): 238.09
Max Loading(lbs): 132
Overall Size(inch): 60.6x37x39.6
Carton Size(inch): 54.92x35.63x23.23
Seat Height(inch): 30.71
Ground Clearance(inch): 3.15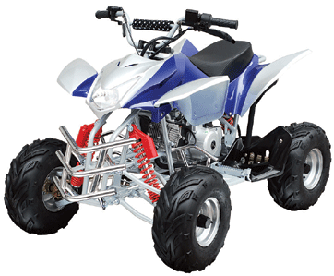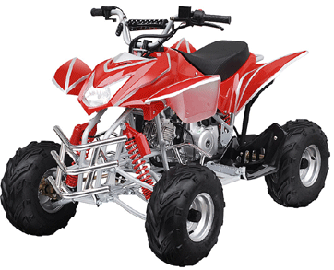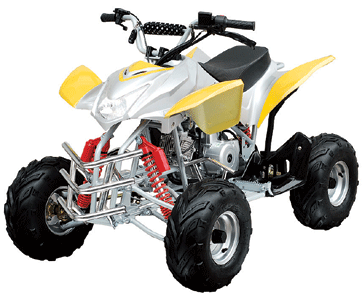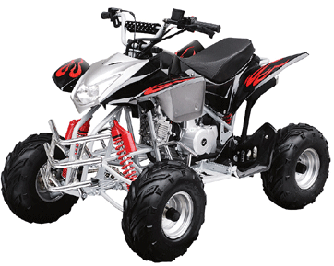 Click here to return to our ATV STORE
Click here to return to about china atvs home page