ATA-125T - A very nice 125cc Sport ATV - $869.00 w/Free Shipping
The ATA-125t is a very nice sport 125cc ATV. It is a semi-automatic ATV which means that you do have to shift it, but no manual clutch. It has 3 forward gears and reverse.
The ata-125t is equipped with electric start, remote start and stop, speed governor, foot controlled rear brake and hand controlled front brake. It is the perfect size for kids ages 10 and up.
Engine:
Engine Type: 125CC,Air cooled, 4-stroke, 1-cylinder,automatic
Start Type: Electric start
Transmission: Chain Drive
Engine Gear: 3-2-1-N-R
Shift Gear: Foot
Max Torque: 6.5N.m/5000-5500r/min
Wheelbase(inch): 43.31
Ignition: CDI
Fuel Capacity(L): 4.2
Chassis:
Front Hand Brake: Drum
Rear Foot Brake: Hydraulic Disc
Tire Front: 19x7-8
Tire Rear: 18x9.5-8
Suspension Front(inch): 11.8
Suspension Rear(inch): 12.6
remote control(Yes/No): Yes
Speed Limiter(Yes/No): Yes
Engine kill switch(Yes/No): Yes
Dimension:
Battery: 12V/4Ah
G.W.(lbs): 330.04
N.W.(lbs): 286.03
Max Loading(lbs): 200
Overall Size(inch): 67.7x42.5x44.5
Carton Size(inch): 59.65x32.28x31.12
Seat Height(inch): 31.5
Ground Clearance(inch): 4.73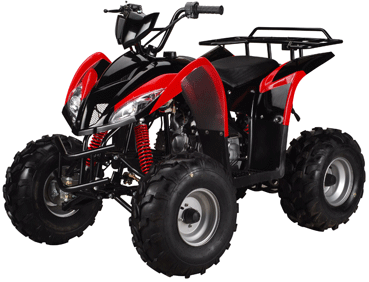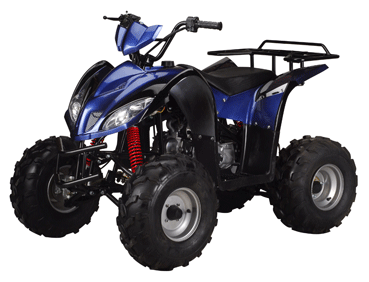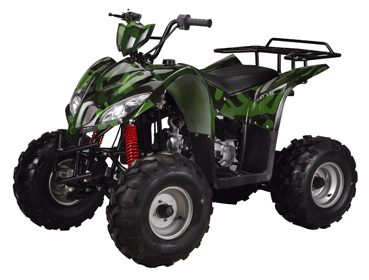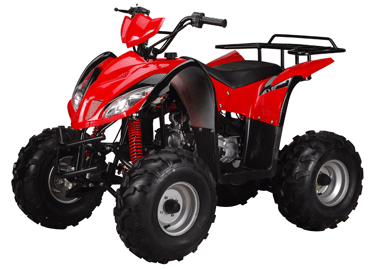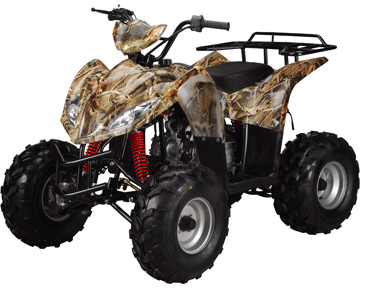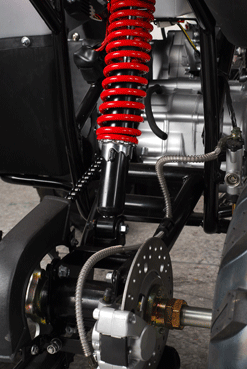 Clcik here to return to our ATV STORE
Return to about china atvs home page